Life is not a race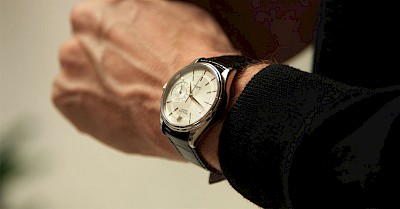 Life is not a race. But most of us don't want to lose track of time, either, because moments can pass swiftly. A fine watch can keep us in touch and in tune with that swift passage, virtually forever.
For over seventy years, family-owned and operated Leeds & Son has pursued the perfect symmetry of aesthetic beauty and engineering precision by presenting clients with the finest, most extensive selection of world-class watches in the Palm Springs and Coachella Valley region.
Terry L. Weiner, president and CEO of Leeds & Son, recently attended BASELWORLD, the premiere showcase for the luxury watch industry, held annually in Basel, Switzerland.
"I've reserved the newest and most extraordinary Rolex and Patek Philippe watches from the creative epicenter of the watch industry," says Weiner. "Only a few of these innovative designs are produced each year, and the excitement over latest trends is palpable."
"Rolex watches are the most durable in the world," says Leeds & Son Store Director, Brett Stein. "And Patek Philippe is known as the finest watch manufacturer in the world."
Stein describes some of the freshest timepieces as being "big, and complicated, but with a sense of heritage." Complications on watches by Rolex, Patek Philippe, Baume Mercier, Corum, Chanel and Tudor can track leap years, moon phases, time zones, and ocean depths, among other features. Yet, while cutting-edge developments thrill watchmakers and enthusiasts, the real value of a watch, ironically, lies in its timeless nature. Those who are passionate about the beauty and function of the watch consider themselves stewards, rather than owners, of a particular piece.
"The quality, style and value of a watch can last for decades, for a lifetime," says Stein.
To ensure such timeless value, Leeds & Son provides an on-site, state-of-the-art watch service department, staffed by exclusive, industry-trained professionals. The Leeds & Son service center is among a few, world-wide, which help to establish benchmark rules and regulations in the industry, according to Stein.
Watch technicians are joined by two master jewelers, who design and repair custom jewelry to complete a team of sales and service experts who proudly represent, not only the finest watches, but the most dazzling and unique lines of jewelry in the world.