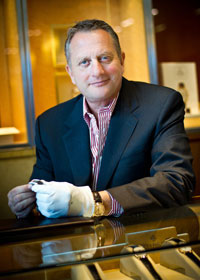 The precision of exquisitely handcrafted timepieces makes Terry Weiner tick. As the president and CEO of Leeds & Son Fine Jewelers, he begins his day often before sunrise. At 4:30 am, an auction in Monaco featuring a cache of rare watches commands his attention.
"High-end watchmaking is on the same level as fine automobile manufacturing or fine art," Weiner explains. "You have to understand the love that goes into individual timepieces that are sometimes one to two years in production."
The impressive selection at Leeds & Son reflects Weiner's dedication. The elegant store displays the finest offerings from Rolex, JB Star, Rahaminov Diamonds, Messika, Marco Bicego, Mattia Cielo, Como Italia, and other elite brands designed for discriminating clientele.
"I could show you watches people would get on an airplane to come and purchase at our store," Weiner says. "That's the magic of El Paseo. It's truly international."
Weiner serves as one of six U.S. ambassadors for the Fondation de la Haute Horlogerie, an organization promoting and serving the age-old craft of watchmaking. He spends much of the year in Europe, working closely with manufacturers. He attends conferences, watch shows, and factory tours, researching the latest timepieces to serve his knowledgeable clients best. "The consumers who walk into Leeds & Son are fashion forward and educated," Weiner says. "They know what they want when they come in," and they rarely leave empty-handed.
In 1947, the legacy of Leeds & Son Fine Jewelers began when Edward and Eleanore Weiner moved to the Coachella Valley and opened their first jewelry store in downtown Indio. The store name "Leeds" was created by combining the first two letters of both Edward's and Eleanore's names.
The family business quickly became a beloved establishment in the valley because of its high-quality products, integrity, sincere love of community, and winning style. That unique flair, love of community, and commitment to the highest quality jewelry continues today at their flagship luxury jewelry store on El Paseo in Palm Desert.
In 1981, ready to retire, they sold their company to their son Terry who has since taken the company, alongside his sister Riki Stein, to new levels.
The Legacy started by Ed and Eleanore Weiner continues through customer service and extraordinary collections of jewelry and fine watches.
LEEDS & SON VISION STATEMENT
To consistently provide the most exceptional and enjoyable shopping experience featuring the best in luxury timepieces and fine jewels. To consistently demonstrate integrity and top-tier professionalism and maintain a respectful and supportive environment for all our employees, clients, and partners.