An Interview with Style Icon, Riki Stein
Riki Stein's parents- her father, a jeweler, her mother, a model – founded Leeds & Son Fine Jewelers over 70 years ago. "My father had a passion for watches, and my mother brought the fashion side to the business," she says. Like her mother, Riki lends her style expertise to the family store on El Paseo. Following the motto that "jewelry should be fun," Stein and her "family" (her relatives as well as her employees) aim to provide customers with an exceptional experience. Stroll in on any given day and find men enjoying refreshments while playing Wii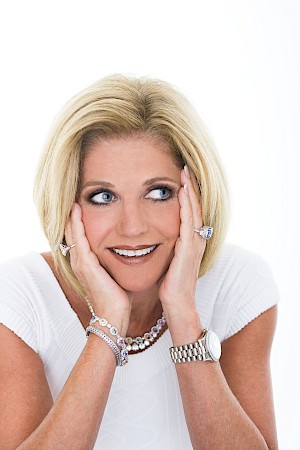 in the back lounge as their wives appreciate the newest collections from around the world. Here, Riki shares some of her tips for dressing and draping in style.
What accessory should every man and woman own?
A watch. More than just a timepiece, it conveys style and status. It is the only piece I cannot leave home without.
What separates Leeds & Son from other jewelers in the Coachella Valley?
We're an authorized dealer for some of the best vendors in the world- Patek Philippe, Rolex, Chanel – that you won't find anywhere else in the desert. We also provide expert-level training to our staff.
Who is your style icon?
My mother had exceptional style and taste. Jackie Kennedy Onassis also had such incredible style; everything flowed together. I like to take a little of this, and a little of that, and put it together in my own way.
What is the key to having great style?
Not being afraid. The old rules no longer apply, and you can do things like mix gold with silver, or yellow with rose gold. The key is to be comfortable in what you're wearing; if you feel good, you can pull anything off.
What was your most memorable jewelry purchase or gift?
My favorite piece is not my most expensive piece nor my newest, but the most sentimental. My mother had an aquamarine ring that I absolutely loved as a child. I don't know what happened to her ring, but I found a stone that resembled hers, and spent about a year designing a ring around that stone. Every time I wear it, I think of my mother and smile.