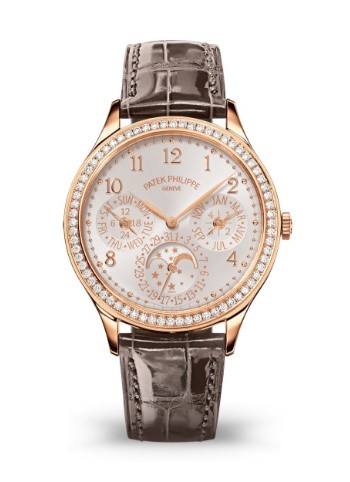 Patek Philippe

7140R-001 Ladies First Perpetual Calendar

94,578 USD
In order to accommodate months with 31, 30 and 28 days, and february 29 in leap years, a movement must have a mechanical "memory" of four years – or 1,461 days. This function requires a highly sophisticated mechanism, based on a complex system of levers and cams pivoting around their axes. This is a domain in which Patek Philippe has repeatedly leveraged its long-standing competence.

Leeds & Son is proud to be the greater Palm Springs' area Official Patek Philippe Jeweler, offering an extensive selection of classic and modern models designed to define all of life's most important milestones. Visit us on El Paseo in Palm Desert or email [email protected] for more details.

Case: Rose gold. Interchangeable full back and sapphire-crystal case back. Water resistant to 30 m. Case diameter: 35.1 mm. Height: 8.7 mm
Bezel: Bezel set with 68 diamonds (~0.68 ct). Prong buckle set with 27 diamonds (~0.2 ct)
Movement: Ultra-thin mechanical self-winding movement. Caliber 240 Q.
Bracelet: Shiny alligator with square scales, hand-stitched, mink gray (originally fitted) and royal purple (additional strap). Prong buckle set with 27 diamonds (~0.2 ct)
Dial: Silvery-white opaline, gold applied hour markers.