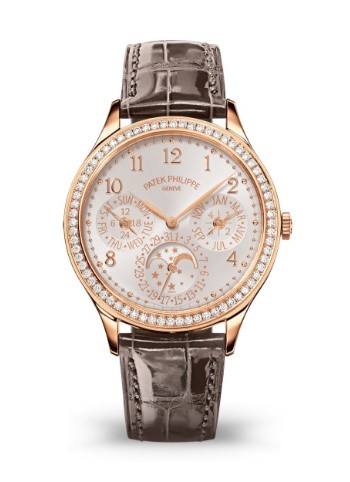 Patek Philippe

7140R-001 Ladies First Perpetual Calendar

99,947 USD
The precision of a mechanical wristwatch to perpetually measure months and years of varying length requires a movement complexity that can only be achieved by true chronologists through years of breakthrough design and ingenuity. Pivoting cams and levers that can measure through 28 day, 30 day, and 31 day months, leap day, and leap years with amazing accuracy make this a sophisticated timepiece. Beauty and craftmanship make it a legend.

Leeds & Son is proud to be the greater Palm Springs' area Official Patek Philippe Jeweler, offering an extensive selection of classic and modern models designed to define all of life's most important milestones. Visit us on El Paseo in Palm Desert or email [email protected] for more details.

Case: Rose gold. Interchangeable full back and sapphire-crystal case back. Water resistant to 30 m. Case diameter: 35.1 mm. Height: 8.7 mm
Bezel: Bezel set with 68 diamonds (~0.68 ct). Prong buckle set with 27 diamonds (~0.2 ct)
Movement: Ultra-thin mechanical self-winding movement. Caliber 240 Q.
Bracelet: Shiny alligator with square scales, hand-stitched, mink gray (originally fitted) and royal purple (additional strap). Prong buckle set with 27 diamonds (~0.2 ct)
Dial: Silvery-white opaline, gold applied hour markers.