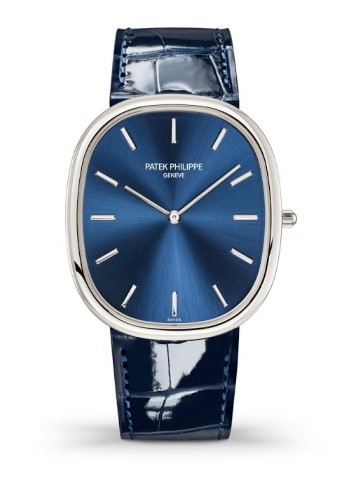 Patek Philippe

5738P-001 Golden Ellipse

52,392 USD
An elliptical case, between a circle and a rectangle. A dial in blue gold, with gold hands and hour markers floating over its depths. When it first appeared in 1968, Patek Philippe's golden Ellipse was a bold departure from traditional watch shapes. But far from bowing to fashion, this innovative watch had a sense of inner harmony that was very pleasing to the eye. Its design was inspired by the principle of the "golden section" discovered by the ancient greek mathematicians. This "divine" proportion, expressed as a ratio of 1 / 1.6180, forms the basis of some of history's greatest works of art and architecture.

Leeds & Son is proud to be the greater Palm Springs' area Official Patek Philippe Jeweler, offering an extensive selection of classic and modern models designed to define all of life's most important milestones. Visit us on El Paseo in Palm Desert or email [email protected] for more details.

Case: Platinum. Crown set with an onyx. Solid case back. Water resistant to 30 m. Dimensions: 34.5 x 39.5 mm. Height: 5.9 mm. Crown set with an onyx
Movement: Ultra-thin self-winding mechanical movement. Caliber 240.
Bracelet: Shiny navy blue alligator 15-mm Golden Ellipse prong buckle in platinum. Prong buckle.
Dial: Blue Gold® sunburst, gold applied hour markers. 18K gold dial plate.