Time honored.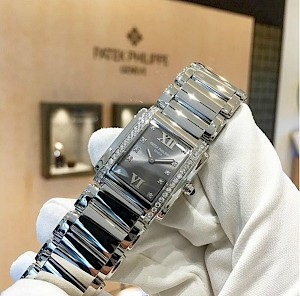 One thing is absolute. Leeds & Son values the things that stand the test of time. Family, customer relationships and timepieces that are handed down to future generations. Much like Patek Philippe, the legendary manufacturer whose watches are carried in the store, Leeds & Son treasures quality that endures. Nowhere is that evidenced more than with Brett Stein, watch specialist and the latest generation to continue the Leeds & Son legacy.
"Patek Philippe is the finest watch house in the world," says Stein, "the company is a 'true manufacturer,' which is extremely rare; there are only three or four left in the industry," he explains. "It takes them 12 to 16 months to create every part for a watch, or more. And it can take one to seven years to create a new movement (the brain that runs the timepiece)." Which means Leeds & Son can offer its customers a level of quality that is nothing short of a tour de force.
Patek Philippe, founded with the goal of making the most beautiful watches in the world, has stayed true to the family's vision. The company upholds a seemingly unattainable level of excellence. It is as much a philosophy of life as it is the pursuit of ultimate quality. Without a doubt, Leeds & Son shares these values. In fact, no other jeweler in the desert has a passion for exquisite timepieces like Leeds & Son. Perhaps that's why it's one of the few stores in the world that invests so much in product training and continuing education. Just listening to Stein's understanding of fine watches and these master watchmakers is contagious.
"Their family pride and passion for their craft is passed down through the generations," says Stein, "whether they are polishers or dial makers, everyone has this sense of pride." He continues. "Most manufacturers will service watches only for a specific number of years. Patek Philippe keeps all the original machines that have made parts since the beginning of their history; they actually use the same machine that made a watch in 1839, for example, to service it today."
Stein was taken with the assured self-confidence of the legendary company's quality control people, willing to stand up to superiors when they believe a watch does not meet the prerequisite for perfection.
"Everyone is empowered to say, 'we can make it better,' "says Stein, "if they believe a watch is not up to their standards, they withhold approval. Then the company must start all over with the exacting quality control process." In a modern world of mass production, shareholder obligations, and planned obsolescence, the realities of this standard are beyond impressive. They're startling. When you consider Patek Philippe's offering of complications – advanced attributes that combine technology with ease of use – for which they hold some 80 patents, they're in a league of their own. Add to that their all but lost art forms: from enameling to engraving, the artistic mastery of the few remaining specialists in the world upholds their ancestors' tradition.
That said, Stein points out that Patek Philippe is for a specific, discerning customer.
"At the end of the day, Patek Philippe is not for everyone," says Stein. "It's for someone who understands quality rather than merely seeking status." Without question, the watches are imbued with a refined elegance that is singular.
Perhaps it's no wonder, then, that only the top jewelers in the world – fewer than one percent – qualify to sell Patek Philippe watches. Leeds & Son has been carrying Patek Philippe for its customers for some two decades. It is, by all accounts, an honor. Both entities, each in its own way, share a belief system. Referring to the ten values contained in a hardbound Patek Philippe book written from father to son, Stein speaks with certainty as he points out the parallels.
(On independence.) "We're both family-owned, independent businesses who must answer only to ourselves in the pursuit of a higher ideal of quality." (On tradition.) "Ours is a deeply-held tradition of quality and value. It's what we stand for." (On innovation.) "We share a quest to continually put out innovative new products, and we recognize that in the vendors with whom we work."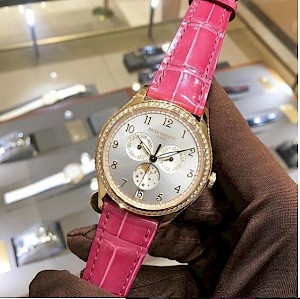 (On quality and fine workmanship.) "We put our name behind everything we sell. That means something to us; it's the hallmark of our business. We even have our own watchmakers work in an open exhibition space, inviting our customers into the process." (On rarity.) "The appreciation of rarity holds true for both our watches and our gemstones. And because we've built up trusted relationships with suppliers over the years, we have first preference in selecting the rarest finds for customers."
(On value.) "We believe in the concept of "intelligent pricing," so jewelry is priced right to begin with. That means no gimmicks and no unnecessary mark-ups. It's about the kind of value that makes our customers, their children, and their children's children want to return again and again.
(On aesthetics.) "You couldn't be in an industry like ours without an appreciation for beauty and aesthetics." (On service.) "People know us as a company that will take care of anything for our customers. That's also why we invest in continuing education for our people. Passion fuels knowledge, and knowledge builds confidence. Each Leeds & Son employee specializes in the area about which he or she is most knowledgeable, helping customers make the selection that's best for them." Brett Stein is living proof of the Leeds commitment to continuing education.
(On emotion.) "The emotional core of purchasing a fine piece of jewelry is tangible. Whether it's a gemstone or a fine watch, as a luxury item, emotion factors into the acquisition." In fact, Stein elaborates on the emotional connection between his staff and their loyal, long-standing customers. "Generations of customers see us year after year. Every time they visit the store, the same person is here, and I believe it gives our customers a sense of connection. People come to us because they know we care about some of their most prized possessions."
(On heritage.) "Once again, this speaks to our passion for our business, something that has been handed down since my grandparents, Eleanor and Edward, opened our first Leeds & Son store in 1947 on Miles Avenue in Indio."
Stein, who learned much of the business working with his grandmother and other family members, is proud of his heritage. He also continues the family's pledge to help others: "We've always been a part of the community, and are great believers in giving back." Countless people and organizations have benefitted from the Leeds commitment to generosity.
The takeaway? Much like Patek Philippe, Leeds & Son has a point of view that is rare in today's world. And everyone at Leeds consistently offers an ultrahigh level of service that delights customers with a one-of-a-kind shopping experience. Which is, for Leeds & Son, what it's all about.