Authorized Watch Repair
Why Choose Leeds & Son
Certified Master Watchmaker
State-of-the-Art Service and Repair Shop with Brand Authorized Equipment
New Original Factory Genuine Parts (OEM)
2 Year Warranty on Complete Overhaul Service
Over 50 Years of Experience
Unsurpassed Passion for the Job Done Well
Watch Service Center
You have in your possession one of the most exquisite timepieces in the world, a magnificent combination of art and science that adorns your wrist. This timepiece represents over 100 years of watchmaking history. It is the embodiment of the true beauty and power of a precisely controlled release of energy designed to keep track of something as fleeting as time. Your wristwatch will last you more than a lifetime if you give it the care and minimal attention it needs to keep it perfect working order.
Pride in What We Do
Leeds & Son is proud and honored to offer you the expertise and world class professionalism of exceptionally talented Master Watchmakers. Located in our extraordinary, state-of-the-art Watch Service Center at our showroom on El Paseo in Palm Desert. These artisans work diligently in the micro-precision world of the modern watchmaker. They enthusiastically wait to answer your questions as well as provide you with any service that your watch requires.
Skilled Craftsmanship
Each Master Watchmaker is thoroughly trained and capable of servicing any watch brand, but have proudly chosen to focus their attention of the brand they truly love, Rolex. They have extensively studied for years to achieve the status they have attained, and they passionately keep up-to-date on all standards of service as determined by Rolex. Watch servicing is always a labor of love.
Unsurpassed Passion
Our highly skilled, Certified Master Technicians are dedicated and devoted to providing the utmost knowledge, precision, and craftsmanship to every detail while caring for your timepiece. You too will feel their passion when you speak to them or when you observe them intently working on a precision timepiece.
Care and Attention to Detail
You own a spectacular mechanical timepiece that represents your appreciation of craftsmanship and tradition. As with any finely-tuned machine, your watch also needs to receive preventative care. When it is time to service your Rolex, let our Master Watchmakers show you the level of sophistication and every meticulous detail of their craft as well as the grand tradition and engineering of Rolex.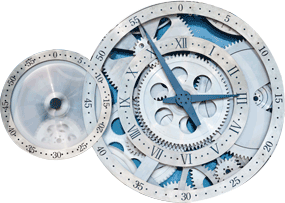 Services We Offer
Complete Overhaul Service
Recommended every 5-7 years, your watch should be overhauled by our Master Watchmakers to maintain optimal working condition and accuracy, and to extend your Rolex service guarantee for another 2 years. This process prevents excessive wear from damaging your watch's movement and insures that your watch meets all Rolex Specifications.
Timekeeping Testing & Regulating
The Master Watchmakers ensure your timepiece maintains accurate time. It is tested to meet Rolex Standards once precise timing adjustments are made.
Refinishing, Cleaning, Repair & Polishing
The outside condition of your watch is as important to us as the interior working mechanism. Our Master Watchmakers take a great deal of time removing damage, scratches or scuff marks on the watch case and the bracelet, and refinishing them to make your watch look as good as new.
Water Resistance and Pressure Testing
To insure the integrity of your watch, water resistance tests and pressure tests are conducted during servicing using our Underwater Vacuum Pressure Testing System and our Dry Pressure Testing Instrument. Keep in mind that if any time you see any moisture in your watch, it must be serviced immediately. Any "home remedies" to dry the watch could seriously damage the movement.
Crystal Replacement
Crystals can become damaged, scratched or cracked through normal wearing conditions. We may be able to easily remove the scratches with buffing. If needed, the crystal can be replaced while insuring pressure and water tolerances are maintained.
Engraving
Is the watch a gift of to commemorate a special occasion? We can engrave your watch to add that special statement.
Battery Replacement
If your quartz watch battery fails, we can often replace your battery while you wait.
Instruction and Education
If you have any questions or feel you need any additional instruction on how to care and maintain your watch, our experts are eager to assist you.